Web, 18/11/2015, 02:30 GMT+7
BSR sponsors ceremony to commend excellent ethnic minority students
On 7th November 2015 morning, in Hanoi, the Committee for Ethnic Minorities Affairs organized the ceremony to commend excellent ethnic minority students 2015. Binh Son Refining and Petrochemical Company Limited (BSR) was honored to be sponsor of the program.
The ceremony is organized annually to motivate and encourage students from mountainous area to overcome difficulties in life, win high prizes in the international, national exams and come first in the university exams.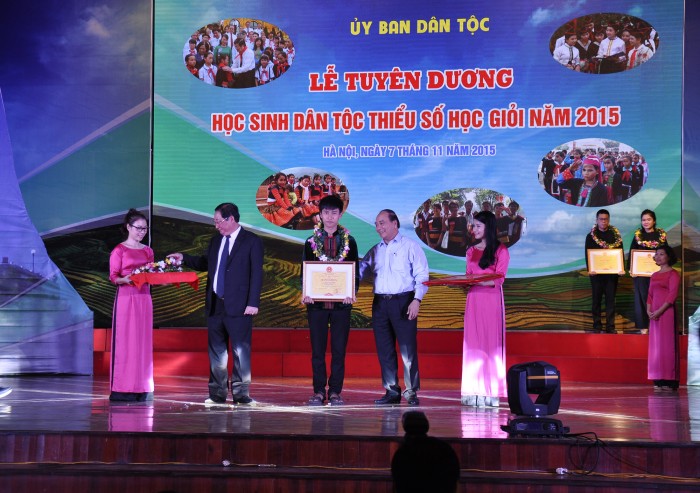 Deputy Prime Minister Nguyen Xuan Phuc and Minister, Chairman of the Committee for Ethnic Minorities Affairs Giang Seo Phu
gave the first and valedictorian award to ethnic minority students
This year, 122 ethnic minority students win top prize; among them, 105 students win national prize and 17 students come first in the exams and highly score in the entrance exam to university and college.
Delivering speech at the ceremony, Deputy Prime Minister Nguyen Xuan Phuc commended, congratulated excellent students, thanked the teachers for their dedication and students' families for overcoming socio-economic difficulties of the mountainous area to teach the students.
The Deputy Prime Minister instructed that the Committee for Ethnic Minorities Affairs, the Ministry of Education and Training, relevant ministries and departments should continue reviewing, studying to finalize the teaching and learning development policy for ethnic minority students in the future; continue paying attention and giving preferential policies to help teachers and students in the remote areas with better conditions.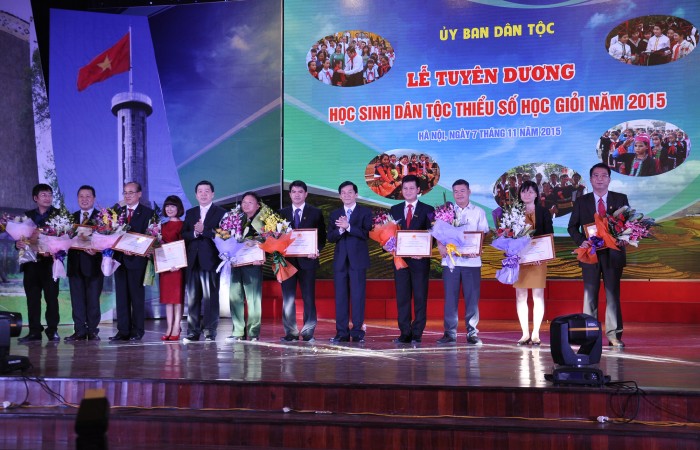 Mr. Dang Hong Son, BSR Office Manager(rightmost)
received certificate from the Organizing Committeeon behalf of BSR leader
Also in the program, the Organizing Committee awarded certificates to the sponsors. This year, BSR is the bronze sponsor for the commendation ceremony.
It is known that every year BSR spends around 40 billion dong from the profit after tax for implementing social security programs, building schools, promoting education and talents, offering scholarships to poor students with good academic results. Total amount for social security in general, including education promotion has reached over 200 billion dong.
In 2015 and the coming years, BSR pays special attention and give highest support with Quang Ngai province to build new schools and rehabilitate deteriorated ones in the resettlement areas of Dung Quat Oil Refinery Upgrading and Expanding Project. Besides, BSR continues paying attention and promoting programs for poor, ethnic minority children.
Print