Tue, 28/06/2016, 10:59 GMT+7
Acceptance and handover of Nam Con Son 2 Gas Pipeline Project – Phase 1
On 31st May 2016, PV GAS and its partners organized a ceremony for acceptance and handover of Nam Con Son Gas Pipeline Project - Phase 1 to put into operation (bypass method).
Participating in the event were Mr. Le Nhu Linh, Chairman of the Board of Directors; Mr. Duong Manh Son, General Director of PV GAS; Mr. Tu Thanh Nghia, General Director of Vietsovpetro (EPC Contractor); leaders of PV Engineering (Design Consultant); PV GAS SEQ; PV GAS SE; representative of Sapura Group and TL Offshore.
At the ceremony, representatives of PV GAS SEQ and PV GAS Acceptance Committee reported and announced the result of checking completion documents of Nam Con Son 2 Gas Pipeline Project – Phase 1 (bypass method).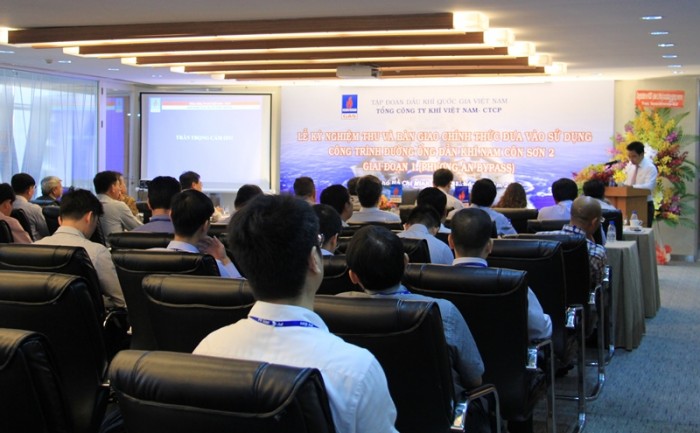 Panorama of the ceremony
On 5th December 2015, the first gas flow from Dai Hung field was brought to Nam Con Son 2 gas pipeline – Phase 1. On 14 December 2015, the project has multi-action load 72-hour operation (bypass method) completed, and the first commercial gas flow was officially received in the happiness of PV GAS laborers. It marked the first gas flow from Dai Hung field brought to the land via Nam Con Son 2– Phase 1 and Bach Ho – Dinh Co pipelines.
The event has marked an advanced step in Vietnam gas industry in general and continued success of the projects implemented by PVN, PV GAS, Vietsovpetro and the units in the industry.
Vietsovpetro General Director Tu Thanh Nghia
On behalf of EPC Contractor - Vietsovpetro, Mr. Tu Thanh Nghia said: the completion of Nam Con Son 2 Project – Phase 1 and reception of the first gas flow from Dai Hung field is great success of PVN, PV GAS as well as Vietsovpetro in implementing such a national key challenging project.
The project success is as significant infrastructure basis for ensuring success of gas production projects in Nam Con Son basin, including Thien Ung gas field invested and implemented by Vietsovpetro, expected to provide the first gas flow in August 2016. The project also provides Vietsovpetro with additional income from the services of operating, processing and transporting gas from Dai Hung through Thien Ung to Bach Ho field before reaching the land.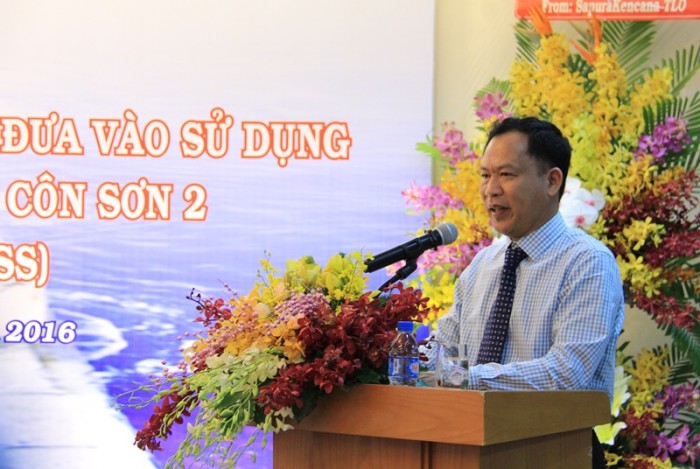 PV GAS Deputy General Director Bui Ngoc Quang
PV GAS Deputy Genral Director Bui Ngoc Quang shared: during the implementation since 2013, Nam Con Son 2 Project – Phase 1 has faced challenges affecting to the project progress such as complicated geology, flow variation, severe weather in Nam Con Son basin that made it difficult for the construction, installation and commissioning of the pipeline system.
However, under the drastic instruction of PVN, PV GAS, Vietsovpetro and subcontractors' effort to overcome difficulties, unfavorable weather conditions to mobilize manpower, materials, equipment… up to now, the overall objectives of the project have been fulfilled with bypass method: ensure to transport wasteful gas from Dai Hung field to the land and provide to the consumers in the South East region, contribute to ensuring energy security; collect Thien Ung gas in 2016 after Vietsovpetro puts Thien Ung rig into operation.
Nam Con Son 2 Project – Phase 1 has also ensured appropriate investment rescheduling, safe investment, maximum utilization of existing technical infrastructure, overall objective of Nam Con Son 2 Project and planning for development of gas pipeline infrastructure in Southeast region; created infrastructure to attract oil and gas exploration and production in deep water of Nam Con Son basin; created technical infrastructure for future gas import as well as determined economic and maritime sovereignty of Vietnam.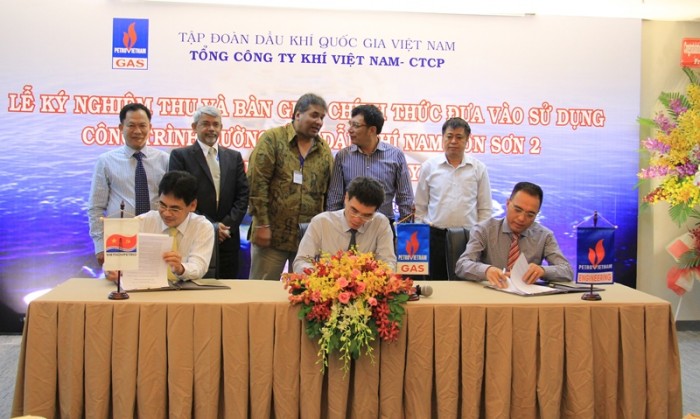 Three parties (PV GAS, Vietsovpetro, PV Engineering) signed project acceptance minutes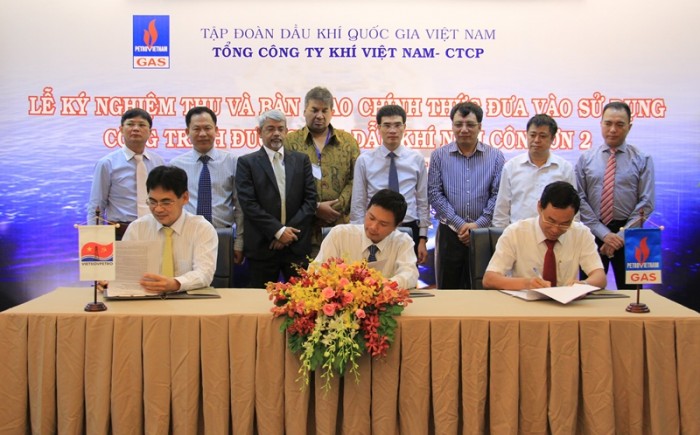 PV GAS and Vietsovpetro signed project handover minutes
On the basis of implementation result up to present, Nam Con Son 2 Project – Phase 1 has fulfilled targets with approved option to bypass Dai Hung gas through Thien Ung rig and is satisfactory for acceptance and operation. The parties involved in finishing project have proved their outstanding capability and consensus under close and drastic instruction of the Government, Ministries and PVN.
Print