Tue, 22/03/2016, 07:28 GMT+7
Petrovietnam leader checks activities at BSR and DQS
On 9th March, Petrovietnam working group led by Mr. Nguyen Quoc Khanh - Chairman of the Board of Directors (BoD) came to check activities at Binh Son Refining and Petrochemical Co., Ltd. (BSR) and Dung Quat Shipbuilding Industry Co., Ltd. (DQS).
In the morning of 9th March, the working group had a meeting at BSR. The meeting was chaired by Mr. Nguyen Quoc Khanh with the participation of Mr. Pham Xuan Canh - deputy secretary of the Party Standing Committee and member of BoD; Vice Presidents Le Minh Hong, Nguyen Sinh Khang, Ninh Van Quynh; leaders of PVC, PTSC, PV EIC and divisions under Petrovietnam.
BSR was represented by Mr. Nguyen Hoai Giang - Chairman of BoD, Mr. Tran Ngoc Nguyen – General Director and Dung Quat Oil Refinery Upgrading and Expanding Management Board.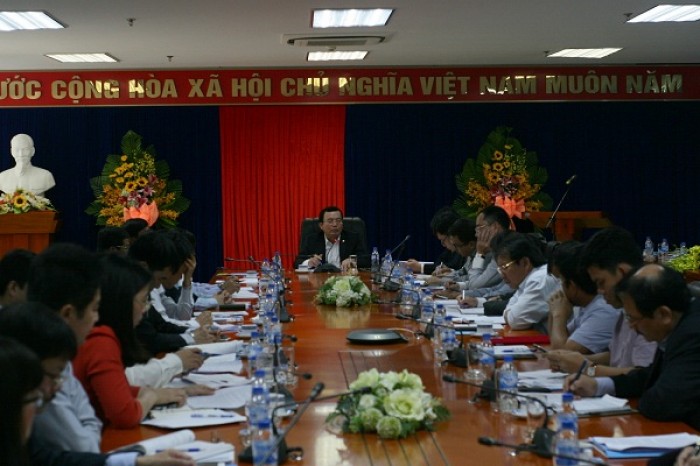 Overview of the meeting at BSR
Reporting to the working group on the production and business activities, General Director Tran Ngoc Nguyen said, despite such difficulties as fluctuation in crude oil price, especially difference in import tariffs , BSR leaders and workers have made effort to operate Dung Quat Oil Refinery safely and stably at 102% of its capacity.
In the first two months of 2016, BSR has fulfilled and over-fulfilled almost all production and business targets with production output of more than 1.1 million tons, equivalent to 113% of two-month plan; revenue of 9,252 billion dong and State budget contribution of 1,699 billion dong. The Company has saved 65.47 billion dong from reduced energy consumption, materials and construction investment. The company has had more than six (6) million safe working hours, an absolute guarantee for workers during production and business process.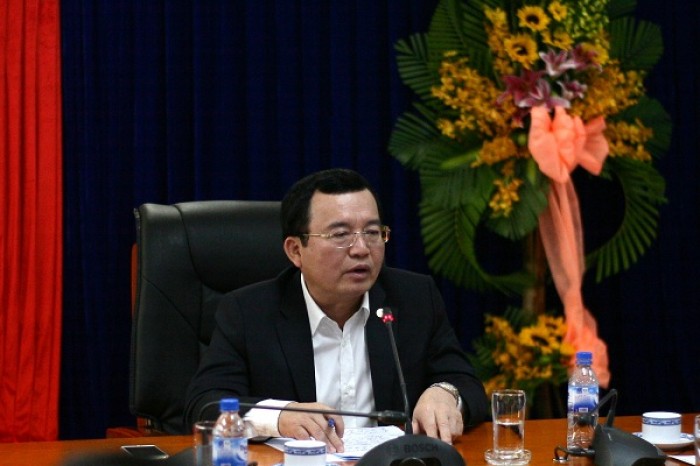 Chairman Nguyen Quoc Khanhconcludedthe meeting with BSR
To fulfill the assigned tasks of 2016, BSR's solutions are: operate the Plant safely, stably and optimize production to enhance business efficiency; drastically take program on thrift practice and waste combat; control the business by itself, be active in seeking markets & customers and signing contracts relating to the Company's production and business on the basis of competitiveness with priority to using services in the industry; continue improving the system of economic – technical norms, legal documents, and enhance internal monitoring; optimize production costs, reduce goods, materials, equipment and spare parts in stock.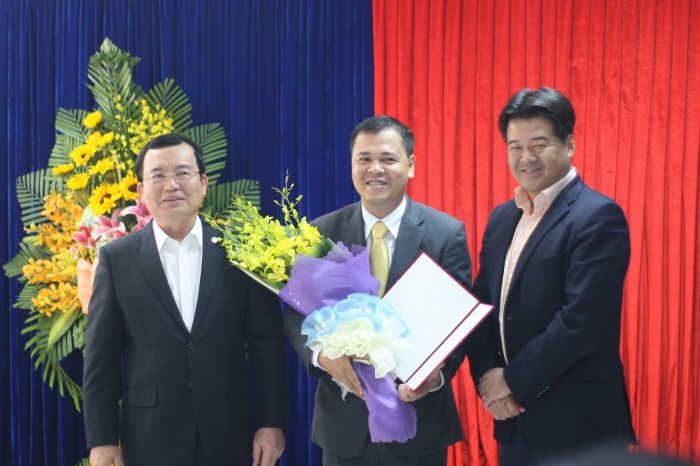 Chairman Nguyen Quoc Khanh presented flowers to Mr. Ly Hong Duc, newly-appointed General Director of BSR
Mr. Nguyen Viet Thang - BSR Deputy General Director, Project Manager reported to the working group on the implementation of Dung Quat Oil Refinery Upgrading and Expanding project. So far the project has been implemented for 10 months since tender documents of FEED package was issued. The Management Board has completed topographic and geological survey; evaluation of proposals from the bombs, mines and explosives detecting contractors; and has been negotiating contract to start terrestrial section first.
80% payment for land acquisition compensation has been achieved. Resettlement and capital arrangement have been implemented as planned.
Giving conclusion at the meeting, Chairman Nguyen Quoc Khanh highly appreciated the production and business results of BSR. In the context of sharp decline in crude oil price and decreased contribution to the State budget from production units, BSR's annual contribution of about US$ 1 billion to the State budget is a bright signal.
According to Chairman Nguyen Quoc Khanh, BSR, PV Gas, Phu My and Ca Mau Fertilizer are currently the most competitive units with biggest contribution to the Group. "In 2015 and the first two months of 2016, BSR has gradually become "big brother" of the oil and gas industry", emphasized Chairman Khanh.
Chairman Khanh also said: there are still many difficulties facing BSR ahead, of which tax policy need to be solved. BSR should actively optimize technology, reduce energy; define objectives of upgrading and expanding the oil refinery; optimize crude oil resources and ensure production security and safety. After that, Petrovietnamwill propose a meeting with the Ministry of Finance to give detailed report on tax and financial status of the Group and BSR.
Also at the meeting, in the presence of Petrovietnamleader, BSR announced the decision to appoint Mr. Ly Hong Duc, former Deputy General Director of PV EIC, as Deputy General Director of BSR.
On the same day, the working group had a meeting with Dung Quat Shipbuilding Industry Co., Ltd. (DQS) on the status and solutions to business activities in 2016.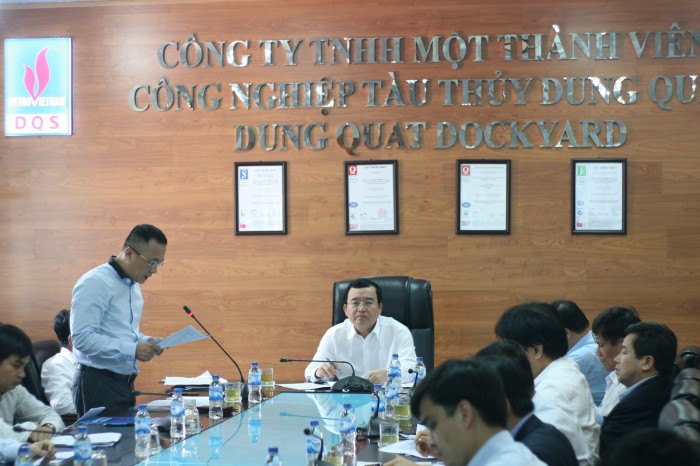 DQS General Director Phan Tu Giang reported to the working group on the implementation of production activities in 2016
Reporting to the working group, DQS General Director Phan Tu Giang said, 2016 is forecasted a year of challenges to the field of new building and repair of ships, drilling rigs and floating vessels. DQS will try to complete the new building of VSP-06 to hand over to Vietsovpetro, and hand over repaired vessels Apollo and Hoang Sa, receive Hercules for repair, continue the new building of two service vessels. In addition to tightening relationship with the units in the industry to remove production difficulties, DQS will boost the exploitation of markets outside the industry. In the first 2 months of 2016, DQS has signed agreement for repairing Apollo vessel with external customers.
General Director Phan Tu Giang thought DQS still faced difficulties due to the financial and investment problems transferred from Vinashin, thus causing troubles to the implementation of the bidding law. Although the issue was reported to the Ministry of Industry and Trade and relevant Ministries by Petrovietnamand inter-branch working group, they are waiting for opinion from the Prime Minister. Besides, the difficulties are also originated from uncompleted, damaged, deteriorated facilities.
To overcome the above-said difficulties, DQS has proposed to the working group solutions to review, cut unnecessary regular costs, immediately reduce 10% to 15% of all costs; consider reducing the number of indirect employees to adjust the labor structure with a view to reduce pressure on wage and expenditure; continue working with PVTrans for participation into projects for new building of 10,000 - 2,000 DWT barges and 80,000 DWT vessels; ask for the Group's support to be involved in the project for new building of 8 service vessels of PTSC.
For markets outside the industry and abroad, it will promote advertisement of DQS image and capabilities to domestic and international ship-owners; investigate and develop services to the markets having similarities with DQS's activities such as manufacture, assembly of steel structures; expand the exploitation of market for building steel-shelled fish ships. So far, DQS has deployed in neighboring provinces of Quang Nam, Binh Dinh, Phu Yen, and had three contracts for building steel-shelled fish ships with the value of 15 billion, 10 billion and 8 billion dong respectively. These projects are expected to be implemented in April.
Giving conclusion at the meeting, Chairman Nguyen Quoc Khanh requested DQS to promote the spirit of self-reliance, solve immediate difficulties, continue tightening relationships with units in the industry to overcome production difficulties, and also increase export to markets outside the industry. The Group will provide as much support as possible in reporting to the ministries about the financial problems facing DQS. At the same time, Petrovietnamwould suggest the units in the industry create favorable conditions to DQS, use DQS's services to help solve the problems in production and business.
Print