Tue, 28/06/2016, 10:55 GMT+7
Petrovietnam Chairman Nguyen Quoc Khanh examines progress of Thai Binh 2 Thermal Power Plant Project
Recently, in Thai Binh, Chairman of the Board of Directors and working group of Petrovietnam examined Thai Binh 2 Thermal Power Plant Project, instructed and motivated officers and workers on construction site in the most important period of the equipment installation and trial operation process.
Accompanying Petrovietnam Chairman were Vice President Do Chi Thanh and head of divisions of the Group. The Project Management Board was represented by Director Nguyen Thanh Huong, Deputy Directors and head of functional departments. PetroVietnam Construction Joint Stock Corporation (PVC – General Contractor of the Project) was represented by Chairman of BoD Bui Ngoc Thang, General Director Nguyen Anh Minh, Deputy General Director Nguyen Duyen Hai, Mr. Luong Van Hoa - Director of the Project Steering Committee, and head of the Contractors.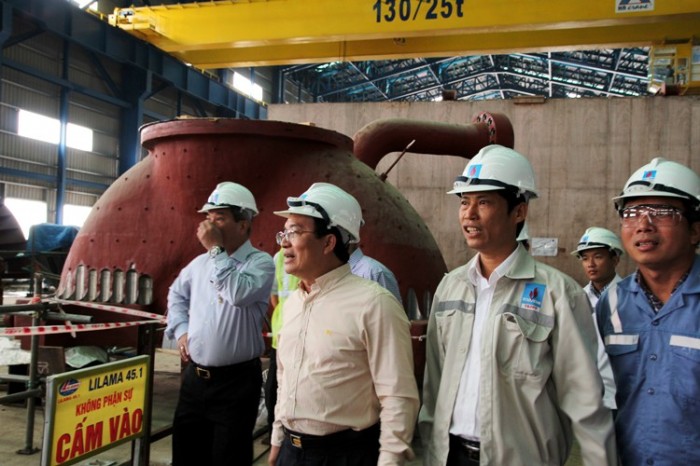 Petrovietnam Chairman Nguyen Quoc Khanh examined equipment installation progress at Thai Binh 2 Thermal Power Plant
By the end of May 2016, the overall progress of Thai Binh 2 Thermal Power Plant Project is nearly 65.5%, in which the key activities such as design, signature of procurement contracts are from 95% to 97%. Particularly the manufacture, production and transport in recent years, though facing troubles, progress is still over 79%, and construction and installation progress is more than 52% of total items implemented.
Regarding construction and installation of main items of the Plant, the contractors have basically completed main area of the Plant, are finishing ancillary items for the areas of FGD (desulphurisation), ESP (electrostatic precipitator system), FD/ PA fan (fan system). Particularly, 70% concrete of the pumping station has been poured for the cooling water system, 109/168 foundation pillars of the pipelines have been concreted (equivalent to 89.34%); continue construction of inlet, outlet and discharge channel; finish piling at section 6, 7 for coal port; continue piling at the remaining sections; cast concrete for girders at section 6, 7; transport stone to section 6, 7 for wharf construction. The contractors have basically completed the areas of water treatment, SPP (power distribution).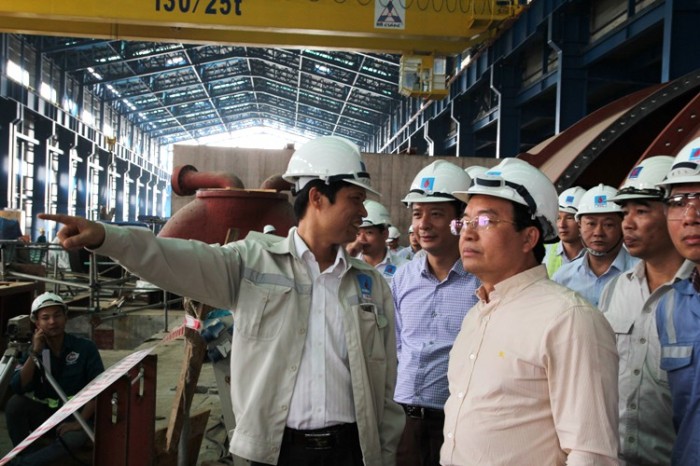 Mr. Nguyen Thanh Huong – Director of Thai Binh 2 Thermal Power Plant PMB
reported progress on site to Petrovietnam working group
According to the Project Management Board, construction progress sticks to the plan with every day effort of PVC and construction contractors. However, attention should be paid to a number of items at risk of being slower than the plan such as coal transport system, coal storage area, fresh-water supply system, fuel entering port, discharge channel, MBA foundation.
Progress of installation and construction is 67% with total completed volume of steel structure and equipment of about 69 thousand tons; 74% with volume of main plant area of nearly 62 thousand tons (85% for Unit 1, 60% for Unit 2). The boiler pressure item has basically been completed, ready for pressure testing on 30th June 2016. Complete installation for main parts of FGD, coal bunker, compressed air, auxiliary boiler items; for steel structure and purlins, continue roofing with corrugated iron, corrugated walls of turbine 1 and 2, Control Center. Particularly in April, Lilama contractor completed raising stator, rotor of units and over-size, over-weight equipment. The installation of items for main plant area closely sticks to the third-level schedule approved by the Group.
On behalf of the contractors on site, Director Nguyen Thanh Huong affirmed: The project quality management is closely followed, regularly monitored and assessed, so it is highly appreciated by the State Acceptance Council. All the oversize and overweight equipment has been installed according to plan, ensuring safety and quality of construction.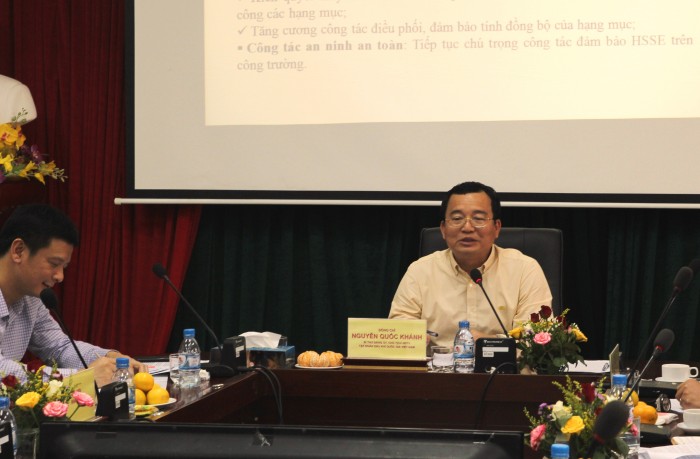 Petrovietnam Chairman Nguyen Quoc Khanh has given drastic instructions to Thai Binh 2 Thermal Power Plant Project
Regarding HSE (Health, Safety, Environment) issue, all the contractors ensure safe absolutely. The staffs on site always abide by safety regulations. At the moment, Thai Binh 2 Thermal Power Plant Project site is at the peak of construction, equipment installation with dozens of items implemented synchronically and thousands of employees concentrated, PMB and the contractors regularly supervise and examine safety work on site; organize weekly meetings to draw experience; request the teams, contractors to give detailed report on each category of construction and equipment installation.
Director Nguyen Thanh Huong also mentioned a number of recommendations to Petrovietnam leaders in order to remove difficulties of the project, accelerate construction progress on site such as support with insurance package, removal of difficulties regarding customs clearance to ensure progress of construction and installation of steel structures and equipment, continuity of financial flows for the project, especially when the project is at construction peak. In addition, decentralization, authorization for different levels to shorten approval procedures from investment plans, construction documents, technical & financial evaluation, contract negotiation and signature, advance payment... can accelerate progress of payment to subcontractors, shorten construction duration.
After checking actual situation on the site, listening to the recommendations of PMB and the contractors, Chairman Nguyen Quoc Khanh highly appreciated the contractors such as Lilama 18, Lilama 691, PVC - IC, PVC – MS…for being examples of initiative and professionalism during implementation of the project packages... Chairman Khanh emphasized: the project still faces many challenges. We should regularly organize seminars to learn lessons about construction methods, how to organize professional construction, reasonable site arrangement, find out innovative construction methods to reduce costs, increase efficiency...
Petrovietnam Chairman requested the General Contractor and the contractors to change their thinking, enhance the enthusiasm of the workers on the site, from the smallest thing to every new package that can accelerate the work, leave off leisure and passive working manner, improve the professionalism and sense of responsibility. Even leaders of the Group and the divisions shall criticize themselves strictly, review progress of approval, support the project with the best effort.
Mr Nguyen Quoc Khanh pointed out that the General Contractor and the board of advisors should find out special solutions to complete adjustment of total investment, re-sign EPC contract according to decision and approval of the Government and Ministries with the goal to finish by end of June. This is the root issue of the project. The PMB, PVN divisions, PVC shall try their best to remove difficulties and ensure progress of the project.
With many years' experience in charge of power in the oil and gas industry, Petrovietnam Chairman Nguyen Quoc Khanh has always paid close attention to the power projects of Vietnam Oil and Gas Group. The Group's leader will be more drastic to accelerate progress of Thai Binh 2 Thermal Power Plant Project. Any individual or contractor who slows down the progress will receive penalty, for example penalty for progress delay, consider reassigning the package to another contractor in case of progress delay or lack of capacity.
Print