Fri, 30/09/2016, 10:33 GMT+7
BSR successfully imports 600th oil shipment
On 26th September 2016, there was good news for Binh Son Refining and Petrochemical Company Limited (BSR) that it had successfully imported the 600th oil shipment to Dung Quat Refinery with a total load of about 46 million tones.
The milestone continues the success of the event in September 2014 when BSR successfully imported 400 crude oil shipments.
This is the fruit for tireless efforts of all the officials and employees of BSR as they know that the importation of crude oil import depends heavily on the weather conditions of Middle Vietnam full of sunshine, wind and sea storms. From September to December every year, as tropical storms often hit the Middle, the arrival dates of many oil shipments may have to be delayed. Fortunately, as the risks from the sea have been foreseen, the oil importation schedule as well as the safety of ships, floats and oil resources is still secure.
On 29th December 2008, BSR officially received the first batch of oil on Torn Gudrun Vessel. So far, the total volume of crude oil received by the single point mooring (SPM) is about 46 million tons; about 42 million tons of all kinds have been processed and consumed.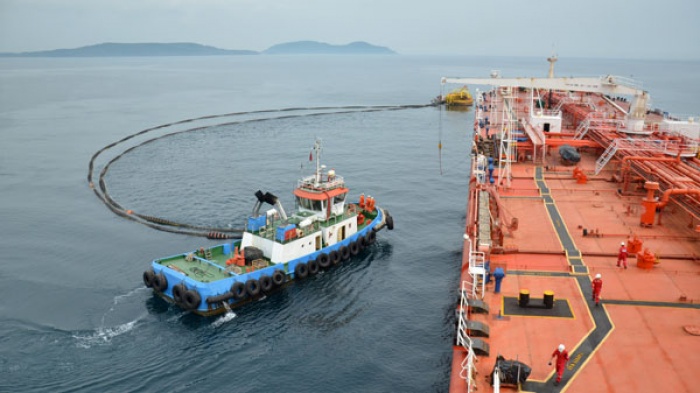 Crude oil imported by SPM
Nowadays, SPM may handle the vessels with their tonnage up to 150,000 tons. It means that BSR may receive crude oil from many different parts of the world including West Africa, the Mediterranean, the Middle East … This helps not only reduce the transportation costs but also diversify the import sources of low price crude oil.
The successful importation of 600 crude oil shipments ensures continuous, safe and stable operation of Dung Quat Refinery at its 105% designed capacity. For the last 8 months, the Company has reached production of 4.57 million tons of petroleum products of all kinds, which is 17% higher than the set target for the 8 months and has fulfilled 78% of the annual plan; The net turnover is 40.03 trillion dong, reaching 84% of the 8 month plan and 56% of the annual plan; 6.90 trillion dong has been paid to the State Budget.
The structure of crude oil supplies to the Plant is now experiencing a shift that is towards gradually reducing Bach Ho sweet oil and increasing oil supplies from other fields such as Te Giang Trang and Dai Hung; In addition, BSR also imports a lot of sour oil shipments from foreign countries to be mixed with the domestic light sweet oil in order to save production costs and increase profits for the Company.
Selecting the types of oil to be compatible with the Plant's technologies has been researched for many years. Until now, there are about 10 types of crude oil eligible for the Plant's processing. If the project of upgrading and expanding Dung Quat Refinery is successful, it will help diversify crude oil sources and also enhance the emission standards from Euro 2 to Euro 5.
Print