Fri, 03/06/2016, 09:55 GMT+7
Prime Minister visits and works with Gazprom and Zarubezhneft
On 17th May, in the framework of the working visit to Russia, Prime Minister Nguyen Xuan Phuc and Vietnam senior delegation visited the two largest oil and gas groups in Russia, i.e. Gazprom and Zarubezhneft.
Petrovietnam working group led by Chairman Nguyen Quoc Khanh has accompanied the Prime Minister.
For over 30 years, Zarubezhneft and Gazprom have been the two biggest partners of the oil and gas industry of Vietnam. They are not only partners but also close and trusted friends. Therefore, the meetings of the senior leaders of Vietnam and Petrovietnam have always been warm and close.
At Zarubezhneft, CEO Sergey Ivanovich, the company leaders and nearly 200 employees warmly welcomed Prime Minister Nguyen Xuan Phuc and high-level delegation of Vietnam. Zarubezhneft is the most famous Russian oil company in Vietnam and the oldest strategic partner of Petrovietnam during the past 35 years.
Zarubezhneft – the name means "foreign oil" - formerly Overseas Economic Union of Russian Federation, was established in 1967 by the Government of the USSR (former) to implement overseas oil and gas projects of the USSR (former). The company has carried out projects in Algeria, India, Iraq, Libya, Syria and pro-Soviet countries.
In 2004, Russian President Vladimir Putin signed Decree No. 137 to transform Zarubezhneft into Joint Stock Company wholly owned by the federal government.
In the same year, according to the Decision dated 10th April 2004 of President Putin, Zarubezhneft was included in the list of enterprises with strategic importance of the Russian Federation.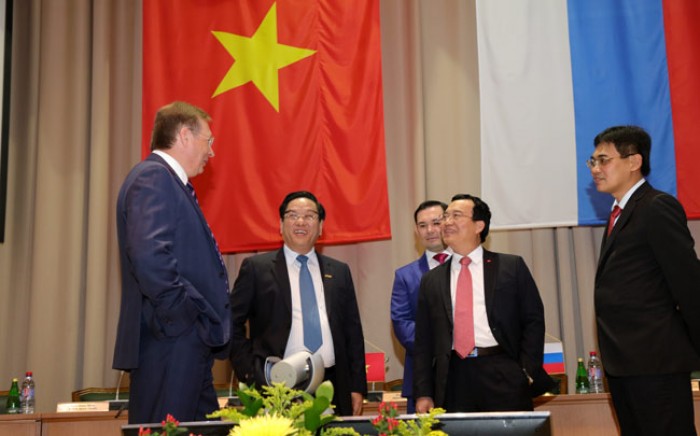 Leaders of Petrovietnam, its subsidiaries and Zarubezhneft exchanged before welcoming Prime Minister Nguyen Xuan Phuc
Since 2007, the company has significantly expanded its operation border with the implementation of oil production and refinery projects in Balkans, Latin America, the Russian Arctic and strengthened its position in Vietnam.
The most successful project of Zarubezhneft is to collaborate with Petrovietnam to establish the Joint Venture of Vietnam - Russia (Vietsovpetro).
In Vietnam, Zarubezhneft has contributed capital to establish VRJ Petroleum Company with PVEP (Vietnam) and Idemitsui (Japan) according to the ratio: Zarubezneft (50%), PVEP (35%) and Idemitsui (15%). VRJ operation duration is 30 years from the date of contract signature.
Currently, VRJ and Vietsovpetro is exploiting Nam Rong - Doi Moi field which was discovered in 2005-2006.
In Russia, Zarubezhneft and Petrovietnam established Rusvietpetro in December 2008 with 25-year license, 51% and 49% capital contributed by Zarubezhneft and Petrovietnam respectively. The exploration and production area is up to 807km2, at 4 blocks, located on the mainland of Nhenhetxky Autonomous Region by Arctic Ocean.
This is a turning point that marks the development of cooperative relations between Vietnam and Russia in general and between Petrovietnam and Zarubezhneft in particular, continues the success of Vietnam-Russia Joint Venture.
Mr. Sergei Ivanovich reported to Prime Minister Nguyen Xuan Phuc on the development of oil and gas cooperation between Zarubezhneft and Petrovietnam that Vietsovpetro is an evidence for the efficient and reliable cooperation.
From West Khosedaiu field, the first Deputy General Director of Rusvietpetro Nguyen Phan Phuc reported to the Prime Minister on the operation of West Khosedaiu field and requested for Prime Minister's permit to put the Gas Processing Center into operation.
Prime Minister Nguyen Xuan Phuc congratulated Vietsovpetro on the 35th anniversary of establishment and thanked Russian friends for their cooperation. The Prime Minister hoped that Zarubezhneft would promote investment cooperation in exploration and production, particularly in deep-water offshore areas. He pledged that the Government of Vietnam would create the most favorable conditions for Zarubezhneft and PVN to further expand cooperation in the fields of mutual interest.
At Gazprom, Gazprom CEO Miller A.B. and the board of directors were pleased to welcome Prime Minister Nguyen Xuan Phuc. Gazprom is the largest petroleum corporation in Russia and ranks the fourth in the world with total annual turnover of about US0 billion. Gazprom is trying to reach ambitious figure of US$ 1,000 billion in 2017.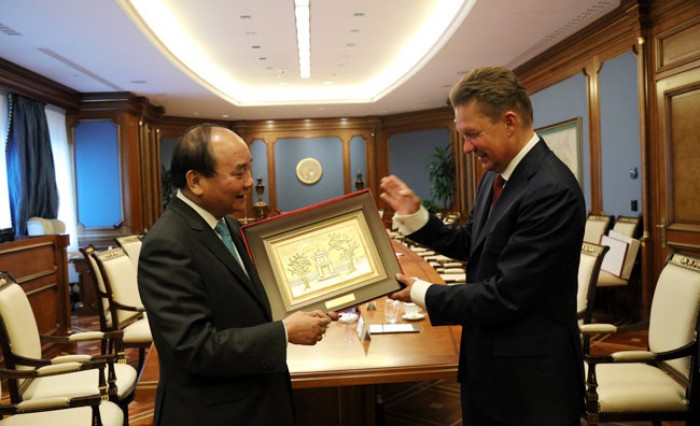 Prime Minister Nguyen Xuan Phuc presented souvenir to Mr Miller A.B., CEO of Gazprom
Gazprom is a state-owned enterprise established in 1989 when the Ministry of Gas Industry of the USSR transformed the company model into the corporation and kept all assets. The company was later privatized in part, but currently the Russian government controls majority of the group (50.01%). Over 27 years, Gazprom has now become the biggest company in Russia and one of the largest energy companies in the world.
With the value of assets on the market of over US$ 300 billion - Gazprom is on par with such large corporations as Exxon Mobil, Microsoft and General Electric. Gazprom supplies nearly 95% of gas in Russian, equivalent to 1/5 of gas production worldwide. Approximately 35%~40% of gas supplied to Europe comes from Gazprom. Even when the European Union seeks to diversify supply sources and find additional gas suppliers, Gazprom still plays a key role in keeping constant and stable energy supply of Europe.
Gazprom is a reliable gas provider for Russian and foreign consumers. The company owns the world's largest natural gas transmission system with total length of 170.700km. Gazprom sells more than half of its gas quantity to Russian consumers and exports gas to more than 30 countries inside and outside the former Soviet Union.
In addition, Gazprom is successfully expanding the liquefied natural gas (LNG) business in the current Sakhalin II project and implementing new initiatives to significantly strengthen its position in the rapidly growing LNG market worldwide.
Not only taking the lead in the field of natural gas, Gazprom is also one of four leading oil manufacturers in Russian. Gazprom Neft – its subsidiary is the extended arm of Gazprom in the oil sector.
Gazprom also owns power generation assets which account for about 17% of the total installed capacity of the national energy system. Besides, Gazprom is the world's No. 1 producer of thermal energy.
In Vietnam, Gazprom has joined investment into Vietgazprom, Bien Dong POC.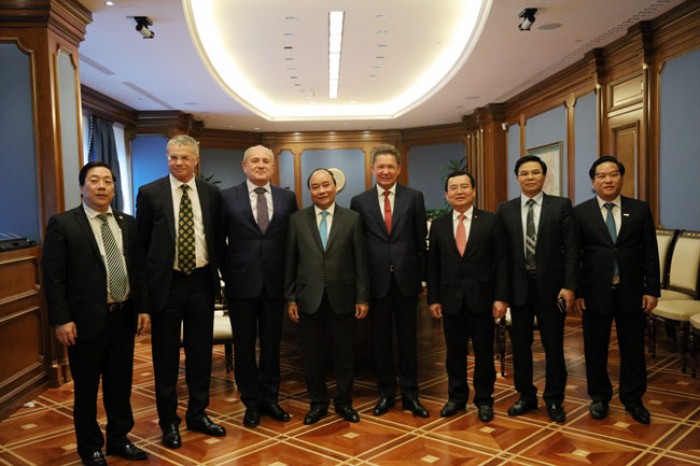 Prime Minister Nguyen Xuan Phuc and Petrovietnam working group taken photograph with Gazprom leader
Vietgazprom began operating in Vietnam in 2002. The company has active and spread activities with 9 contract blocks on Vietnam continental shelf, including offshore deep water area.
During development process, Vietgazprom has important findings at Bao Vang, Bao Trang, Bao Den fields under Block 112, 113 of Phu Khanh basin, Vietnam continental shelf. From 2008 until now, Vietgazprom deployed petroleum exploration at Blocks 129, 130, 131, 132. These are deep water areas where exploration works faces difficulty.
Bien Dong POC: In 2012, Gazprom participated 49% of Block 05-2, 05-3 where Bien Dong POC acted as the operator for gas production at Hai Thach, Moc Tinh fields. This is the gas production project with the largest scale ever in Vietnam and the key national oil and gas project. As of 1st January 2015, Bien Dong POC produced safely and effectively 2 billion m3 of gas per day, currently bringing 5 million m3 of gas to the land.
Besides, in recent years, Petrovietnam - Gazprom cooperation has extended from oil & gas exploration and production to other fields such as the project for production and supply of natural gas to the transport sector in the territory of Vietnam.
Gazprom plans to build a LNG plant in the South with capacity of 250,000 tons/ year to supply natural gas for transportation vehicles and industry. In parallel with the plant construction, Gazprom will build stations for extraction and supply of liquefied natural gas in the Southern provinces.
Mr. Miller A.B informed Prime Minister Nguyen Xuan Phuc of the main aspects of Gazprom - PVN cooperation and a number of plans for cooperation with PVN that Gazprom is interested in.
Prime Minister Nguyen Xuan Phuc congratulated Gazprom on its great achievements and confirmed the determination of the government of Vietnam to build the oil and gas industry that develops rapidly, efficiently and sustainably. To do so, it is necessary to cooperate with Gazprom and it is hoped that Gazprom actively cooperate, create favorable conditions for the implementation of oil and gas projects as soon as possible by the two parties.
Petrovietnam Chairman of BoD Nguyen Quoc Khanh also raised a number of issues to be further discussed by the two parties as a basis to submit for the two governments' consideration of the oil and gas projects.
Print